Coordinator speaks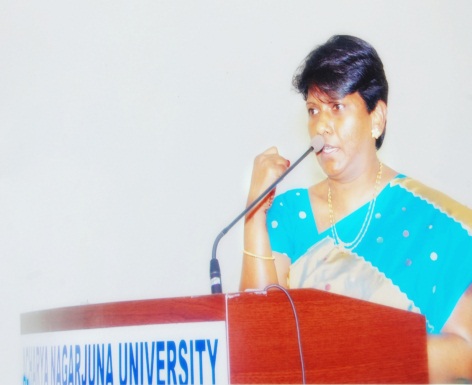 The Cultural Association of SDMS Mahila Kalasala was established in 1982 soon after the establishment of the college. With the objective of promoting inherent cultural talents of students and to play the role of nodal committee in the college campus for organizing and coordinating cultural events by giving training in Performing and Fine Arts.
Smt.K.Visala as the coordinator with Smt.Sundaravalli Sureshan, Smt.Chandrika, Smt.M.Sarala Devi, Kum.Radhika and Kum.Suvarchala as members the committee started its journey. Smt.KKD.Jhansi Lakshmi acted as the coordinator from 2001 to 2004 for the Degree College.
Since 2005 till date Dr.M.Sarala Devi, HOD English and Smt.D.Uma, HOD, Zoology were given charge as Coordinator and Co-coordinator. They believed in the concept – "Cultural Empowerment as a tool to promote excellence". The principle objective is conservation, preservation and dissemination of the mosaic culture of the state by implementation of multi-dimensional cultural activities on and off the campus. The passion driven Coordinators strive for the promotion of Performing Arts of various genre (classical /traditional and folk/tribal) in the fields of music, dance and drama towards the protection of language, mother tongue, culture, mythology and heritage.
Youth are the catalysts in changing the social and cultural fabric of our society. The changes are in beliefs, values, practices, culture, psychological, cognitive and emotional behaviour levels, social relationships, social media networks(f, twitter, whatsapp, instagram, tiktoks etc.) gaming and the engulfing tech world which consumes personal and mental health.
As India has great tradition of spirituality and philosophy, the coordinator's plea to students is to pursue art with faith, classism and Indianness that gives a profound touch to one's life.
I appeal the students to follow their passion and not the popular perception while deciding priorities in life.
DR. MANUKONDA SARALA DEVI
Identifying interests and inborn talents of students by conducting Selection in various events within the campus.
Forming various teams with the selected students.
Providing proper guidance and training to the students.
Encouraging students to participate in various competitions held at various levels.
Organizing various cultural programs with in the college campus.
Providing musical and other support during academic day's viz. Independence Day, Republic Day, and College Annual Day etc.
Conducting various camps in rural areas to enlighten people by thought provoking cultural programs like Skits, Mimes, Songs, etc.
Participating extensively in community service collaborating with Government and Non-Government Organizations (NGOs)

To foster interest and appreciation for Indian Art Forms through organizing seminars, lectures, workshops and performances by the experts in the field.
To develop stronger relationship with Art Forms, different supporting organizations and alumni.
To develop skills needed for quality performance through multiple rehearsals.
To develop a sense of receptiveness and to perceive the significance of these art forms as an integral part of life.
To promote aesthetic sense and critical awareness for understanding variety of styles in traditional art forms (Burrakatha).
To train the students towards goal setting, team spirit, competitive spirit and confident learning as self-expression and communication.
To groom the students towards respecting and accepting the views, beliefs and ideology of others for enhancing their artistic potential.
To facilitate the celebration of Indian traditional festivals in the college campus ex; Sankranthi, Ugadi, Deepavali etc .
To develop curiosity and interest in their own creativity.
To upgrade the latent talents, instill confidence, shed inhibitions and take up challenges to face the society in their future endeavors.
To provide the students with positive working environment that encourages an interactive learning with the peers which helps them to grow into totality and apply the same through meaningful communication in new situations.
To expose students to multiple avenues of expression enabling them to become disciplined artists of substance with desired values and refined culture by learning new concepts, skills and attitudes.
To broaden the understanding of students in relating fast fading art forms to the present social and cultural context through imbibing perceptual and conceptual skills.