200 - EXTENSION ACTIVITIES FOR SPREADING CULTURE AMONG YOUTH – LOCAL, STATE,GLOBAL

The objective of the extension activities are to spread and promote culture and its knowledge to the public in the state primarily targeting the youth. These programs aim to encourage and promote the value of our heritage, culture, mythology, ethics and beliefs. The activities are sponsored by government and non-government organizations. These include tourism department in 5 districts, Government utsavs, Rotary clubs, prominent festive celebrations, Minister programs, Opening Ceremonies of International Seminars, National Athletic Meets, World music day, Rose festival by Horty Cultural departments, Traffic Awareness, Republic Parades, Happy Sundays and Exhibitions for Vijayawada Citizens. They include music, theatre and orchestra.
These activities diffuse art and art forms and their culture. They also promote interaction with public and with different organizations. Students will explore the role of culture in their lives and the community. These outreach programs will help the students to develop open attitude, self-awareness, cross-cultural learning, mastering a set of skills and to value diversity. It also creates open dialogue with the members in the community, fosters curiosity and creates cultural connections. Outreach programs are important vehicles to enhance the quality of life of students and increases overall well-being. Culture and Education complement each other.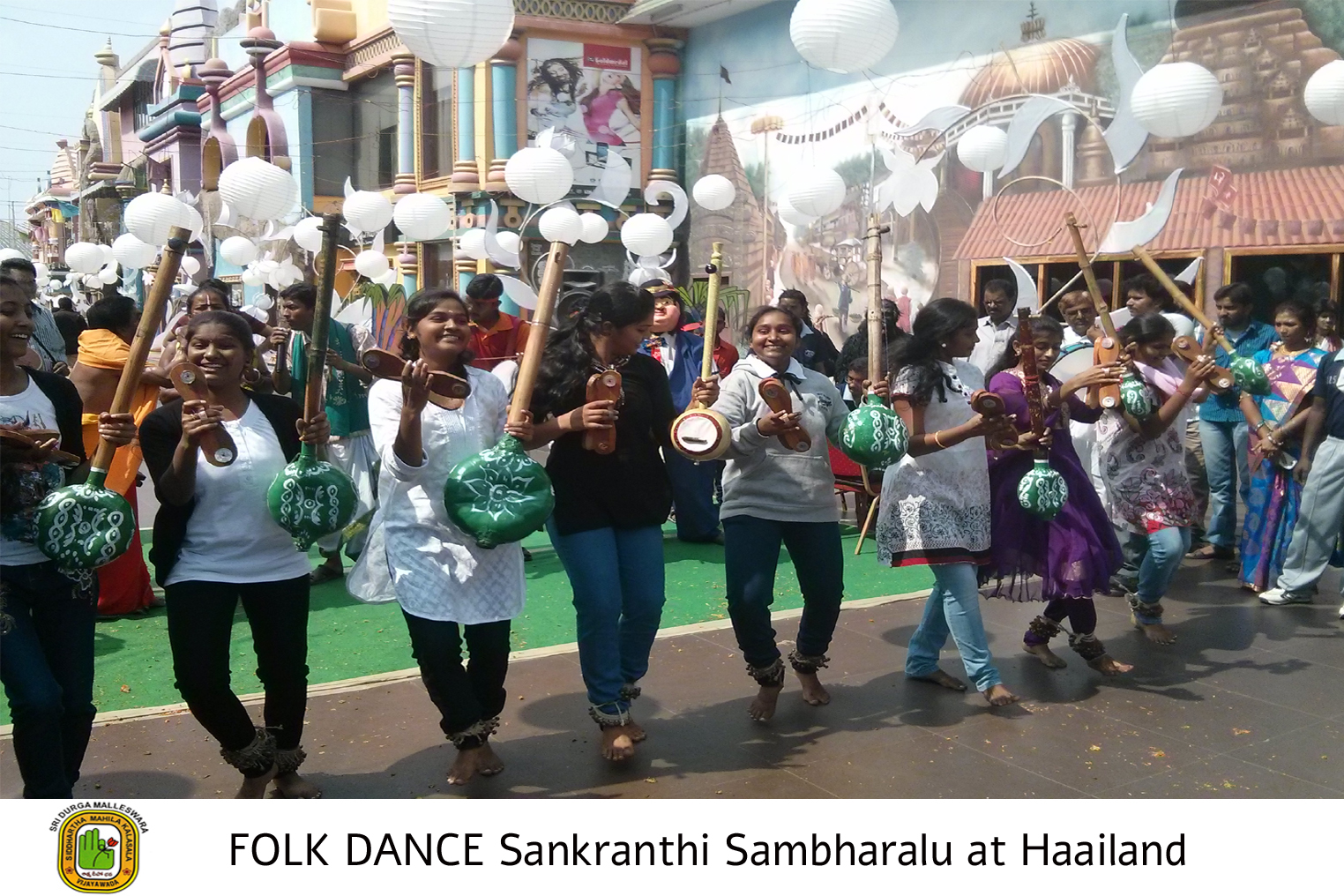 EXTENSION ACTIVITIES – GRAND PERFORMANCES
1. GLOBAL
Telugu Association of North America TANA 2015-Detroit, USA
2. National
National Womens Hockey Tournament. Gachibowli Stadium, Hyd-2013
Junior Nationals Athletic Meet, Municipal Stadium Vijayawada.-2015
National Economic Association, Sponsored by NABARD, Acharya Nagarjuna University- 2016
International Seminar, Dept of English, Acharya Nagarjuna University-2012
Senior National Athletics, Acharya Nagarjuna University-2017
3. State Level
Nandi Natakostavalu - Conducted by Andhra Pradesh State Film, TV and Theatre Development Corporation- 2017 WINNERS: GOLDEN NANDI, MERIT CERTIFICATE, Rs 40,000/- CASH AWARD
State level Dance Competition, Rotary District 3020 Rajahmundry - Rs 1 Lakh CASH PRIZE- 2013
Govt of A.P- Performance before Chief Minister and Padmabhushan, JRD Ratan Tata-2015
Tourism Department A.P-Tirupati- 2015-16
Tourism Department- Vishakha Ustav – 2015, 2017
Tourism Department-Vijayanagaram Ustav- 2016
Tourism Department-World Tourism Day- 2013, Shilparamam, Hyd
Doordarshan-3 Performances
Given Performances - ETV, ABN, TV9, Gemini TV, TV10, i -news, in other TV channels MahaTv, Tulasi TV,
Ramoji Film City, Hyderabad- Performance - Grand Finale
4. City Level
Prapancha Telugu Mahasabhalu, Vijayawada
World Music Day- 21 June, 2015
Republic day Celebrations- Parade Grounds- 2012, 2013, 2014
Traffic Awareness Day- Performances – 3 years
Rotary club District 3020 Meet- Performances- 2 years
TANA - 2011 - at Siddhartha Auditorium
TANA- Chaitanya Sravanthi- Vijayawada,2014
TANA- 2018- at Siddhartha Auditorium
Sankranti Sambaralu- Hailand and many other venues over the years
Happy Sundays- Public Performances by many teams, Vijayawada,2016
Gallery